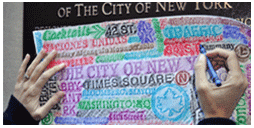 Take home a piece of New York City
Everyone takes home photos. Here's your chance to take home an experience. New York Impressions rubbings are like maps of places you've been. And since you made it, each one is as unique as you are!
The grit, the glory, the bricks of buildings where legends lived. New York Impressions is a unique guided tour, and an opportunity to make something that truly captures the feeling and history of the city.
see more impressions